Bus + Tower of the Americas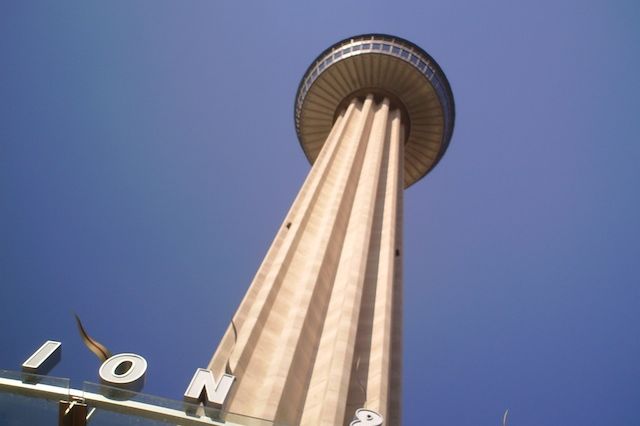 TOUR DESCRIPTION
Our 24 hour tour pass with the 2nd day FREE along with admission to the Tower of the Americas.
MORE INFORMATION
CUSTOMER INFORMATION:
Separate purchase price for the two attractions for an adult is $51.
Both attraction tickets can be used on any day.
The Tower of the Americas is a 750-foot observation tower-restaurant located in the Hemisfair district and was built as the theme structure of the 1968 World's Fair.
It was the tallest observation tower in the United States from 1968 until 1996, when the Las Vegas Stratosphere Tower was completed.
It is the tallest building in San Antonio.
The tower is located in the middle of HemisFair Park and has an observation deck that is accessible by elevator. There is also a lounge and revolving restaurant at the top of the tower that provides panoramic views of the city!
10am - 10pm.
Hop-On Hop-Off and discover the hidden gems of San Antonio!
The route starts out in Alamo Plaza and immediately give you the double decker view of the beautiful Alamo.
From there we head north towards the San Antonio Museum of Art, the Pearl Brewery Complex, and much more.
And of course you are free to get off and explore at any of our 19 stops. If you do, just go back to where we dropped you off and wait for our next bus to arrive!
We get to each stop every 20 minutes, from 8.40am to 5.30pm.
You'll get to see:
The Alamo
Pearl Brewery Entertainment Complex
Market Square - El Mercado
San Fernando Cathedral
Spanish Governor's Palace
Tower of the Americas Space Needle
King William Historical District
San Antonio Museum of Art
The Famous River Walk
Theater District
Zona Cultural
Buckhorn Saloon & Texas Ranger Museum
Veterans of Foreign Wars Post 76
Southtown
The Tobin Center
The Scottish Rite Cathedral
Hipólito F. Garcia Federal Building
Yaganagua Garden
Emily Morgan Haunted Hotel
Shops at River Center Mall