Hop-On Hop-Off Route & 19 Stops
Here is your Tour Route Map and below it, the 19 Hop-On Hop-Off Bus Stops and exactly where to stand and wait for us.
Our Welcome Center number is 210 224 8687 for further vehicle locations.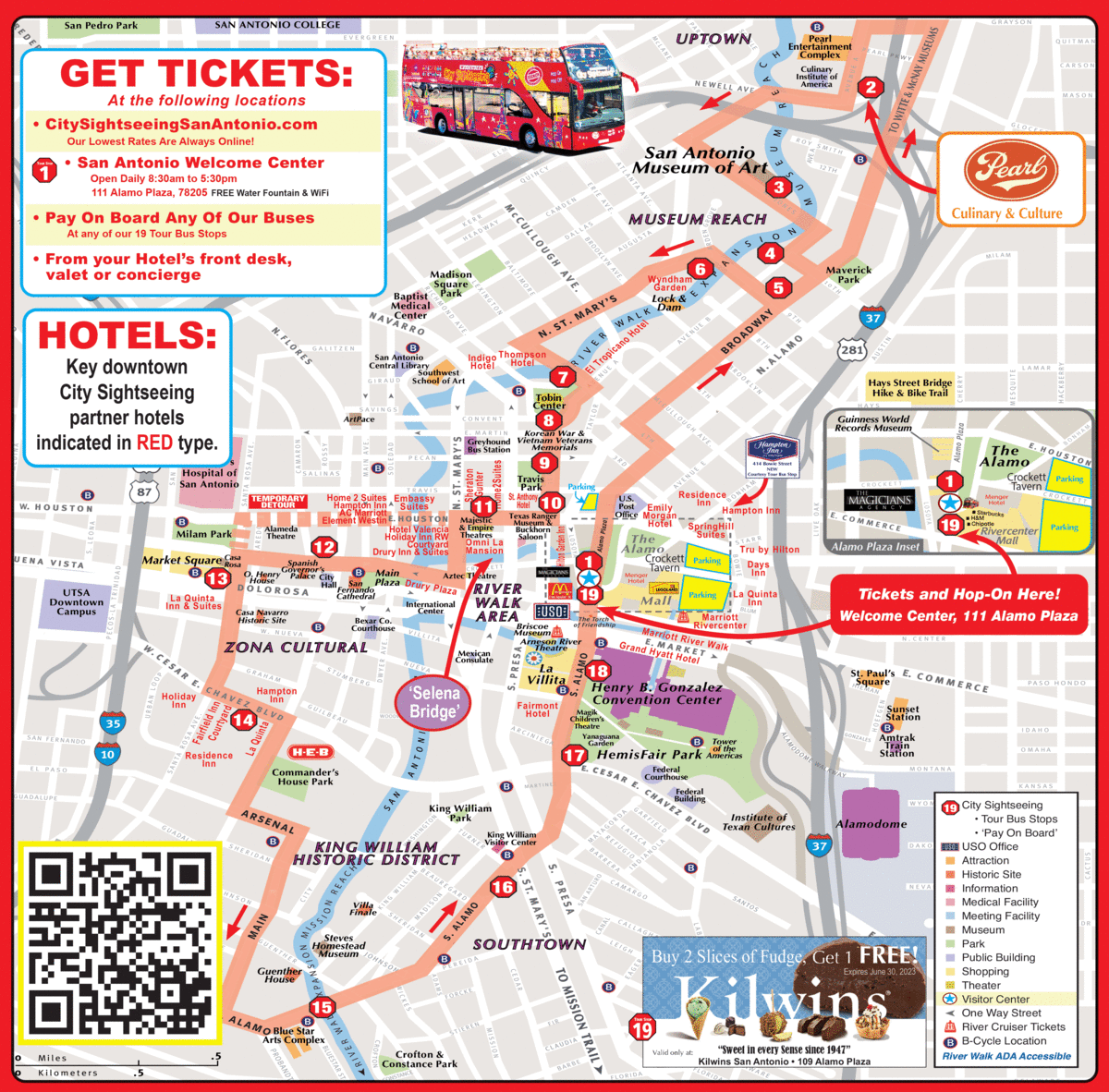 Our tour stops:
1. The Alamo:
Once home to Spanish Missionaries as Mission de Valero, it is the site of the Battle Of The Alamo in 1836.
(Bus stop is at our Welcome Center, 111 Alamo Plaza, San Antonio, 78205.)
2. The Pearl, Entertainment Complex (Bus Stop temporarily MOVED to Avenue A and Newell due to construction - more info please call 210 224 8687):
A culinary and cultural destination along the banks of the river. Shops, restaurants, cafes, bars and Hotel Emma.
3. San Antonio Museum of Art:
An iconic San Antonio landmark housing the largest and most comprehensive collection of ancient Egyptian, Greek, Roman and Asian art in the Southern USA.
4. VFW Post 76:
The oldest Veterans of Foreign Wars Post in the United States.
5. Augie's BBQ Restaurant:
A San Antonio favorite with down home Texas atmosphere and live music.
6. Museum Reach at Wyndham Garden Hotel:
The northern section of the River Walk with beautiful landscapes, hiking and biking trails, restaurants and more.
7. Tobin Center:
Home to resident performing arts groups and major music and theatrical acts visiting San Antonio.
(Bus stop at Thompson Hotel, on Lexington Avenue)
8. Veterans Memorial Park:
Home of the Korean War and Vietnam War Memorials.
9. Travis Park and St. Anthony Hotel:
Visit the first fully air-conditioned hotel in the world. Their elite clientele has included Presidents Eisenhauer and Johnson as well as Eleanor Roosevelt, Judy Garland, Princess Grace and more recently, George Clooney.
(Bus stop on the southeast corner of Travis Park)
10. Buckhorn Saloon and Texas Ranger Museum:
An immersive Texas experience, explore hundreds of animal species, the Texas Ranger Gallery and Ranger Town.
(Convenient for Townplace Suites, Hyatt Regency, Home2Suites and St. Anthony Hotel) (Bus stop out Buckhorn Saloon at Houston and Jefferson)
11. Sheraton Gunter Hotel (for the River Walk & 'Selena Bridge'):
One story above the river, visit St. Mary's Catholic Church, the Majestic, Aztec and Empire Theaters. Also a great location for guests of the Hotel Valencia, the Drury Inn and Drury Plaza, the Omni La Mansion Hotel and the Holiday Inn River Walk to hop-on and hop-off. 'Selena Bridge' bus stop.
(Bus stop in front of Sheraton Gunter at Houston St. & N. St. Mary's St.)
12. San Fernando Cathedral/Spanish Governor's Palace:
Founded in 1731 and is the oldest continuously functioning religious community in Texas. The Spanish Governor's Palace was constructed in the early 18th century as the "Presidio San Antonio de Bejar". It marked Spanish settlement under King Ferdinand VI.
13. Market Square/El Mercado:
Visitors and residents alike visit El Mercado for authentic Mexican dining, music, and treasures. Located in the 'Zona Cultura'.
(Bus stop is South Santa Rosa and Produce Row)
14. Hotels on Cesar E. Chavez Blvd. Tour Bus Stop:
Located at La Quinta Inn, next to the The Courtyard by Marriott. Also very convenient to Hampton Inn, Fairfield Inn, Holiday Inn, Residence Inn and HEB.
15. King William Historic District:
The Blue Star Arts Complex, the Guenther House, the King William District, and Southtown. An area know for it's diverse community, art galleries, restaurants and Victorian era homes. Two Victorian homes are available for tours: Villa Finale and Steves Homestead. (Bus stop at Halcyon Coffee at Blue Star)
16. Southtown
Southtown has been described as a vibrant neighborhood just blocks from the city's touristy epicenter but much farther away in spirit.
(Bus stop in front of the Friendly Spot restaurant and bar)
17. Yanaguana Garden:
Public art display and children's splash pool and playground.
18. Tower of the Americas and La Villita:
The 750 foot tall Tower of the Americas provides the most spectacular view of the Alamo City. Enjoy the gorgeous panorama view from the Tower's Observation Deck and experience the thrilling 4D Theater Ride.
(Bus stop at South Alamo and Nueva)
La Villita is the historic art village and one of San Antonio's first neighborhoods.
(Also, the Convention Center and Grand Hyatt Hotel stop. Bus stop convenient for Hotel Contessa and The Westin. Opposite the Hilton Palacio del Rio Hotel)
19. City Sightseeing Welcome Center, 111 Alamo Plaza Street, 78205:
At this location - for our online customers - we provide FREE water, FREE WiFi and FREE charging stations.
Tour bus stop for the Shops at River Center mall, stores, the movie Alamo The Price Of Freedom at the IMAX, LEGOLAND Discovery Center, restaurants, bars, movie theaters, and the Rivercenter Lagoon.
(Bus stop convenient for Marriott Rivercenter & Marriott Riverwalk)
****
Our Hop-On Hop-Off double decker tour buses are fully ADA Compliant and handicap accessible. We also have several Hop-On Hop-Off tour motorcoaches that are not.
There are many Parking Lots near our Welcome Center and Hop-On Hop-Off Stop 1. The two closest parking lots are at 328 East Crockett Street and at Crockett Street / Bowie Street.
Buy HERE & SAVE: Online rates are $2-$20 LESS than walk-up. 15% OFF!
Get any Bus Tour, or Combo Package, from our drivers on board the bus at any of our 19 Hop-On Hop-Off tour bus stops.
Discover our city with your Official Live Guide.
"Really good way to see most of the city, convenient and not overly expensive....but what really made the experience superb was our tour guide. Funny, entertaining, accommodating, polite and just a fantastic representative for the company!" Jan J.
Your tour route starts in Alamo Plaza - immediately giving you the fantastic 'double decker' view of the beautiful Alamo - and then heads off in to the River Walk district and historic neighborhoods....
We head north over the River Walk to The Pearl, Spanish Governor's Palace, Cathedral, Theater District, Tower of the Americas, Mexican Market Square, King William Historic District and much much more.
Hop-On, Hop-Off - we pick up at each stop every 20 minutes.